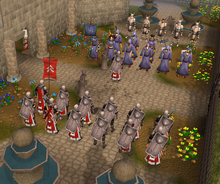 I tend to devise plots with friends and try to keep things interesting.
Characters
~ Aldaren - Main character.
~ Janus Delmoran - Master Wizard and adventurer.
~ Urhen Jakkan - Fight Master of the Sons of Het, twin brother to Urie Sicarius. Former servant of the Es'ir.
~ Sons of Het - An organization of desert knights sworn to protect Kharidians and serve the Duel Arena. They are devout followers of the Menaphite Pantheon.
~ Josael - Pirate lord and a member of the Aren family.
~ Cedran Malleus - son to one of my oldest characters in real time, Khalian. Member of the Kinshra.
Community content is available under
CC-BY-SA
unless otherwise noted.