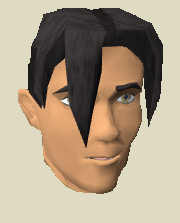 The White Knights

Status

Active

Rank

Partisan

Years Active

2

Squire of

Sir Brynden Ryker

Weapon

Saradomin Bow
Sir Evan Dunegun is a White Knight of Falador. He is one of the Partisans in the White Knight section led by Sir Bool and Sir Vye Ver.
Early Life
Evan Dunegun was born in Rellekka but traveled around with his family for most of his life. His family taught him basic survival and combat throughout his whole life. During 160, His family begun to fall apart with the death of his father who passed away on their journey toward Lumbridge. After this Evan split away from his family and made his journey toward Varrock to start his own journey into his life. he got to varrock in the year 161 and stayed there for 3 years , Evan would do simple work like with helping with the farmers and many other odd jobs to save money to head toward Falador.
The White Knights
When he joined the White Knights, Evan Dunegun had joined like any other squire. He had trained under the direction of Sir Brynden. After finishing his last week,Evan had finally rose to the rank of initate. After this promotion Sir Dunegun moved through the ranks quickly as he showed his loyalty, courage, and bravery in training sessions and on the field of battle. When reaching the rank of Partisan, Dunegun was asked to join the Knights of the Round Table.
Trivia
Sir Evan Dunegun was his first character and only character
He been role playing the same character for 5-6 Years
The Dunegun Family Crest
Community content is available under
CC-BY-SA
unless otherwise noted.