Ra'Agor Yaegar, is a male werewolf character aged at 446 years. He appears to be about 28 years old. Ra'Agor has not pledged his alleigiance to Zamorak and refuses. Ra'Agor Yaegar doesn't have many friends but to the few that he has, he is a loyal companion. He serves as a soldier to the House of Draculea. He is played by the user Chew-Bach-A who operates in the PST timezone. 
Ra'Agor Yaegar

Gender

Male

Race

Werewolf

Height (Human/Werewolf)

(6'10"/ 7'5")

Weight (Human/ Werewolf)

(200lbs/ 450lbs)

Hair Colour

Black

Eye Colour

Red

Occupation

Mercenary/ Guard for Ariane Draculea

Alignment

Chaotic Good

Quote

Loyalty and devotion lead to bravery. Bravery leads to the spirit of self-sacrifice. The spirit of self-sacrifice creates trust in the power of love."

Age

446 (appears to be late twenties)
Skills
Appearance
Personality
History
Relationships/ Enemies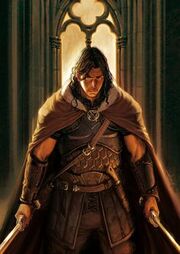 Community content is available under
CC-BY-SA
unless otherwise noted.