This Page is In Progress, please provide feedback in a message here!
Lyam



Born

Spring of 96 Fifth Age

Age

76

Race

Half-elf

Gender

Male

Height

6'2

Weight

184 lb

Eye & Hair Color

Green & Brown

Religion

Serenist, Godless

Alignment

Neutral(?)

Played by

Lyam is a half-elf monster hunter who occasionally worked with the Godless.
Biography
Lyam was born in the 5th Age. His father, Aiden, was a human hunter living the mountains of Eagle's Peak and his mother, Lucina, was an elf from the Iorwerth who had left her lands.
Early Life
As a child, Lyam often went on hunts with one of or both of his parents when they had a safer quarry. In his younger years, he went with his father where the prey was less likely to kill him. He showed Lyam how to track an animal and how to use the environment to his advantage. After these hunts, his father took him Ardougne to sell whatever the excess meat and hides.These trips were always a joy for the young half-elf since his family lived in an isolated area. During his visits in Ardougne however, his father made sure that the boy's ears were hidden, either under his hair or a hood.
As Lyam grew older, his mother took him with her when she went to deal with monsters that plagued the common folk. She taught him how to use anything he could to survive. Both of his parents made sure he could make anything he would need, be it weapons, shelter, potions, or armour. By the time he reached his adolescence, he was capable going out on his own and hunt for smaller prey.
When he entered adolescence his mother left. She told him there were things she couldn't run from anymore and she had to deal with, and that she loved him and was proud of him. From then on, Lyam's father picked up where Lucina had left, and took on the task of hunter monsters with him.
Adulthood
Appearance
What can they see?
Facial
XXX
Bodily
XXX
Personality
XXX
Origin
(might not need this section if it is covered in your backstory)
RP Log
XXX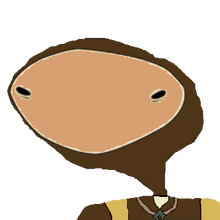 Trivia
Community content is available under
CC-BY-SA
unless otherwise noted.