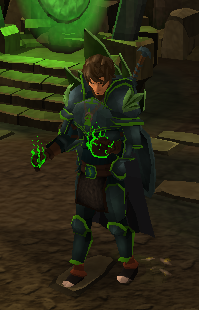 Kraden Sebastian Arrav
is an Alchemist-Warrior, originally from Taverly who was sent to live in Varrock until he was old enough to travel on his own. He spends his time trying to keep a balance in the land of Asgarnia, and learns all he can about Alchemy and Anima in his free time. This character is roleplayed by Saturos Roar.
Kraden Arrav

Kraden in a battle ready stance.

Age

Unkown

Race

Human 1/4 Mahjarrat

Alignment

Chaotic Nuetral.

Religion

He considers himself a Guthixian despite the transition to the Godless.

Hair

A shaggy carefree mahogany brown that naturally has a slight outward curve to the tips. He has a full chinstrap beard.

Eyes

An emerald-green.

Height

Unknown, his height was never measured.

Areas of specialty

Physical energy focused into psychological magic called Psynergy using anima, Melee Combat.

Reputation

A Scholar and thought to be believed as the last of the Arrav family, he is making his roots.

Personality

Scholarly and sophisticated, he views that all things must be at balance with each other, he scorns the gods and is willing to stop them.
Community content is available under
CC-BY-SA
unless otherwise noted.