House Cinderhill

"Honed and Vigilant"

Head of Family

Lord Aedan Cinderhill

Heir

Aaralyn Cinderhill

Residence

Cinderhill Manor, Kandarin

Family Colours

Crimson, Black, and White

Family Animal

Raven

Alignment

Traditionally Saradominist; now aligned with the Godless
House Cinderhill are a clandestine noble family that have boasted a family history since the Fourth Age. Although most of their history are oral stories with skeptical accuracy, they have still been recognized in Kandarin as an ancient house among various regimes.
After the passing of Lord Seregor in the first year of the Sixth Age, Aedan and Aaralyn Cinderhill seized the family estate. Since then, they've began rebuilding their fiefdom.
Gallery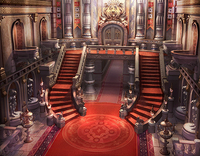 Community content is available under
CC-BY-SA
unless otherwise noted.