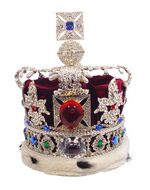 To become royalty places you at the top both the in character and out of character ladder in a POC/POK roleplaying clan. However, with right comes responsibility and you will be expected to A) lead your kingdom well and keep your people happy (thus avoiding rebellion) and B) not take on any external enemy larger than you can chew (in order to avert invasion). Of course, in the case of some monarchs (namely tyrants), A is irrelevant, so long as you have the military power to back up your regime.
Being a successful monarch often requires delegation, organisation and patience.
Delegation ~ Ensuring you can maintain a good OoC and IC leadership team, consisting usually of the same people who can be arranged into a Royal Court, Privy Council or Government.
Organisation ~ The abilities of keeping a well made thread and a well moderated chat for your group and a regular stream of roleplaying in your kingdom are vital to ensuring your POC becomes your crowning achievement.
Patience ~ It's imperative to ensure that you're able to sit things out when you need to. Sometimes, you just need to wait for something to happen. Interfering might not just achieve nothing, it may make things worse.
Trending pages
All items (106)
Community content is available under
CC-BY-SA
unless otherwise noted.