Brian Mortimer Graves



Race

Human

Height

5'10"

Age

38

Alignment

Chaotic Evil

Religion

Played by
"Bone-Dry" Brian is a pirate and warlock.
Biography
Brian hails from a disease-ridden Kandarian port village, where he was taught how to sail while working on a fishing trawler. As a young man, Brian moved to the city of Yanille to become an apprentice wizard. He studied the magic of flesh, blood and bone, hoping to learn some curative or immunizing spells. As he started to gain power over the body, Brian was tempted by the secrets of necromancy. He traveled abroad, colluding with demons, necromancers, warlocks, witch doctors and the ZMI to learn fragments of forbidden lore.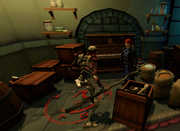 Brian grew to be a powerful warlock, though he had little money to his name. Turning to piracy, he reanimated a skeleton crew and salvaged a ghost ship, naming it the Coffin. As an overt threat, Brian was targeted by the Customs and Excise Officers. They surrounded his ship, destroyed his crew, arrested him, confiscated his treasure and left him to rot in prison.
The Great Escape
Conflict
Personality
Brian is egocentric and has no regard for ethics. He works well with others, though rarely places his full trust in anyone. He carefully considers the words of others and rarely agrees to anything, a habit picked up from his demonic negotiations. He lacks disgust and fear, seeing only beauty in the macabre.
Abilities
Brian's magic gives him power over the mind, body and soul. He can charm the weak-minded, summon imps and zombies, turn both the living and deceased into undead minions, manipulate the form of organic matter and understand the speech of ghosts. In battle, he uses blood essence to empower and heal himself while doing the opposite to his enemies with a necrotic aura.
Possessions
Black prism: Curses an area with undeath, reanimating cadavers buried within its vicinity.
Bone seeds: Skeletal magi in portable form.
Calling beads: Summons bound demons, elementals and spirits.
Chthonian amulet: A skull-shaped necklace that leeches the essence of a victim to empower its wearer.
Enamel rifle: Fires necrosis-inflicting bullets.
Ripper claws: Brian's weapons of choice, favored for their enhanced lethality against the dying.
Trivia
Brian prefers authentic Karamjan rum and occasionally smuggles it off the island.
Leitmotifs
"Bone-Dry" Brian
The Coffin
Community content is available under
CC-BY-SA
unless otherwise noted.