The Bloody Apple



Born

Unknown

Age

Unknown

Race

Unknown

Gender

Unknown

Height

Unknown

Weight

Unknown

Eye Color

Unknown

Hair Color

Unknown

Religion

Unknown
The Bloody Apple was a serial killer who operated in Asgarnia in the late 160's of the 5th age. The killer's identity remains unknown. The Apple murdered victims in Falador, Port Sarim, and Rimmington between the year 168 and 169. Four men and five women between the ages of 8 and 49 were murdered. The killer originated his/her name "Bloody Apple" in a series of taunting letters left at the scenes of the murders. The Bloody Apple signed his/her name in the victim's blood on the letters.
History
There is very little known history on the killer's life. The Bloody Apple has never been seen in person by any witnesses. All who have knowingly seen The Bloody Apple are dead.
Suspicions exist that The Bloody Apple may be living in or near the Kingdom of Asgarnia. It is suggested that the killer may be either a part of or have contacts with the White Knights or Guards of Falador. The Bloody Apple may have prior experience working with or against the Temple Knights. This is assumed due to the advanced methods the killer uses against the Temple Knights. During the time the killer was actively murdering, he/she seemed to be able to predict and foresee the actions of both the White Knights and the Temple Knights. One accomplice of the Bloody Apple was confirmed to be within the Temple Knights. This shows that a long, drawn out plan may have been established. It is unknown if there are any others accomplices within Asgarnia.
The Bloody Apple is well versed in common tongue and writes well. This suggests that the killer may come from a wealthy family or has received some schooling in the years before.
Style
The Bloody Apple has a very unique style of killing. No evidence of resistance or fighting could be found on any of his/her victims. This shows that the Apple is most likely very elusive. It is unknown if the Apple has an

y real skills in fighting or not. His/her weapon of choice is almost always a stabbing weapon such as a dagger or knife.
The Bloody Apple would leave a fresh apple, dropped in a pool of the victim's blood after each murder.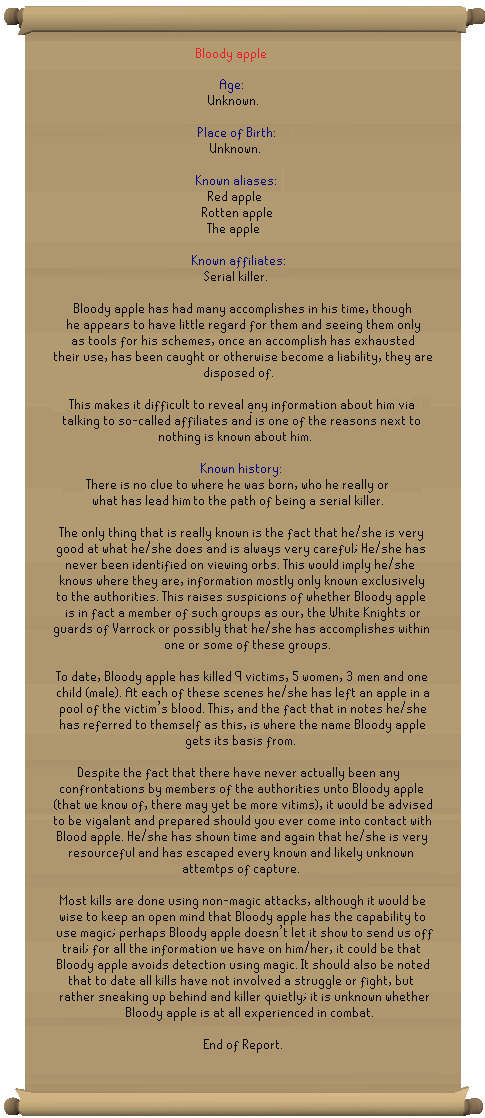 Community content is available under
CC-BY-SA
unless otherwise noted.